---
"LEGENDS OF THE ROAD"
Tri State Commodities believes that customers deserve on time quality service, and dong this takes the right people and the right equipment.
Jack Shupe started Tri State Commodities of Greely Colorado in 1971. Jack's sons Gregg and Grant are part owners and have been with the company since high school in the late 70s. Gregg and Grant's wives and children work at the Shupe family owned and operated business. Many of the Tri State drivers have been making on time deliveries for the company for decades and have their names painted on the door of the trucks they drive.
Tri State has a fleet of nearly 50 trucks and none of them are new, (you won't see any DEF at this facility). They were pulling a W900a into the shop for an oil change while I was there and it had high door handles which puts it into the 1960s to very early 1970s vintage. The shop is a busy place building trucks from the frame up and keeping the fleet in top condition. The fleet is comprised of roughly 96% Kenworth W900s, (saw a Pete 379 there and another 379 was on the road). All of the Tri State trucks are set up to get deliveries done on time with big power coming from Cat or Cummins. These trucks all have personality and even have individual names on the back of the cab or sleeper. Greg Shupe has custom built and restored 6 different A model W900s.
"Toads Pad" started out as a 1882 W900A. Greg stretched the frame and added a smooth riding air suspension. Power was upgraded to a 525 horse N14 Cummins and a Roadranger 18 speed transmission. A new aerodyne sleeper was coupled to the original cab so that modern air ride cab suspension could be utilized underneath. A custom new Burgundy interior was added to the inside of the cab and sleeper. The truck is finished in a custom orange and white Midnight Sun paint job with lots of chrome, graphics and pin striping.
"American Graffiti" Is another early 80's W900A. Greg also custom built and restored this truck from the frame up in the Tri State shop. Power comes from a 525 hp N14 Cummins and is transferred through a 15 speed Roadranger transmission. The original 60" flat top sleeper was coupled to the cab and a cab air suspension was added as well as a new sound deadening interior for driver comfort. The familiar Tri State custom Midnight Sun paint scheme was applied as well as graphics and pin stripping. Greg finished the truck with new chrome stacks, bumper and air cleaners.
Both of these trucks are show trucks but you won't find them at a show; these are daily drivers and the best place to find them is on the road. It is my pleasure to recognize the Shupe family and the men and women at Tri State Commodities by bringing to N scale these "LEGENDS OF THE ROAD".
Trainworx is pleased to announce to N scale
Toads Pad with Dry bulk trailer #25
American Graffiti with grain trailer #213


Trainworx Nr. 59001-2,
American Graffiti with grain trailer #213.
Foto und Copyright: Trainworx

Trainworx Nr. 59001-1,
Toads Pad with Dry bulk trailer #25.
Foto und Copyright: Trainworx
---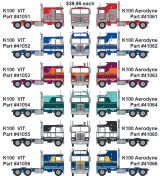 Trainworx Nr. 41066,
Kenworth K100 Blue and yellow Potomac VIT aerodyne.
Foto und Copyright: Trainworx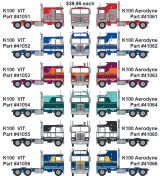 Trainworx Nr. 41065,
Kenworth K100 Black and white Potomac VIT aerodyne.
Foto und Copyright: Trainworx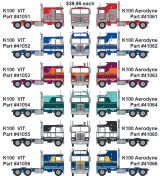 Trainworx Nr. 41064,
Kenworth K100 Green and green Potomac VIT aerodyne.
Foto und Copyright: Trainworx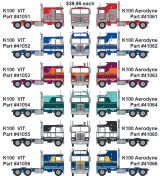 Trainworx Nr. 41063,
Kenworth K100 Burgundy and orange Salem VIT aerodyne.
Foto und Copyright: Trainworx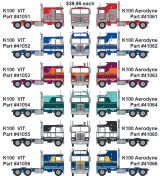 Trainworx Nr. 41062,
Kenworth K100 Blue and white Salem VIT aerodyne.
Foto und Copyright: Trainworx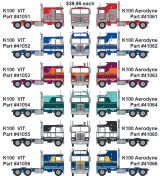 Trainworx Nr. 41061,
Kenworth K100 Red and gray Salem VIT aerodyne.
Foto und Copyright: Trainworx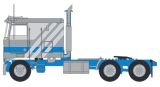 Trainworx Nr. 41057,
Kenworth K100 Gray and blue (truck down the street) VIT flat top.
Foto und Copyright: Trainworx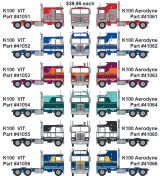 Trainworx Nr. 41056,
Kenworth K100 Blue and yellow Potomac VIT flat top.
Foto und Copyright: Trainworx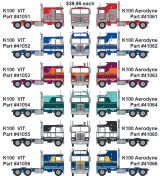 Trainworx Nr. 41055,
Kenworth K100 Black and white Potomac VIT flat top.
Foto und Copyright: Trainworx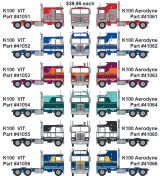 Trainworx Nr. 41054,
Kenworth K100 Green and green Potomac VIT flat top.
Foto und Copyright: Trainworx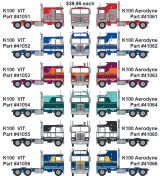 Trainworx Nr. 41053,
Kenworth K100 Burgundy and orange Salem VIT flat top.
Foto und Copyright: Trainworx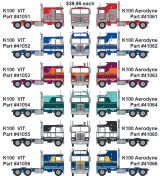 Trainworx Nr. 41052,
Kenworth K100 Blue and white Salem VIT flat top.
Foto und Copyright: Trainworx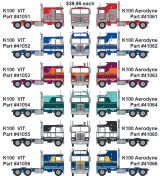 Trainworx Nr. 41051,
Kenworth K100 Red and gray Salem VIT flat top.
Foto und Copyright: Trainworx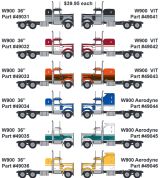 Trainworx Nr. 49046,
Kenworth W900 Yellow and white Seminole with 60 inch Aerodyne VIT sleeper.
Foto und Copyright: Trainworx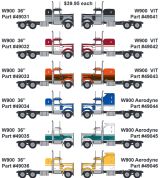 Trainworx Nr. 49045,
Kenworth W900 White and green Seminole with 60 inch Aerodyne VIT sleeper.
Foto und Copyright: Trainworx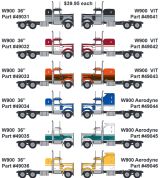 Trainworx Nr. 49044,
Kenworth W900 Blue and white Seminole with 60 inch Aerodyne VIT sleeper.
Foto und Copyright: Trainworx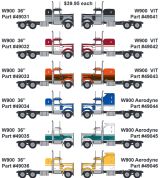 Trainworx Nr. 49043,
Kenworth W900 Orange and brown Seminole with 60 inch VIT sleeper.
Foto und Copyright: Trainworx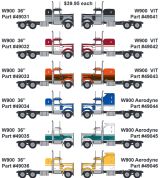 Trainworx Nr. 49042,
Kenworth W900 Red and white Seminole with 60 inch VIT sleeper.
Foto und Copyright: Trainworx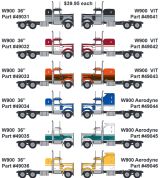 Trainworx Nr. 49041,
Kenworth W900 Black and gray Seminole with 60 inch VIT sleeper.
Foto und Copyright: Trainworx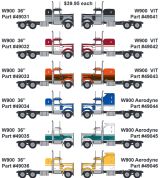 Trainworx Nr. 49036,
Kenworth W900 Yellow and white Seminole with 36 inch sleeper.
Foto und Copyright: Trainworx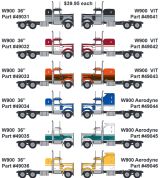 Trainworx Nr. 49035,
Kenworth W900 White and green Seminole with 36 inch sleeper.
Foto und Copyright: Trainworx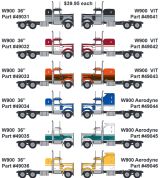 Trainworx Nr. 49034,
Kenworth W900 Blue and white Seminole with 36 inch sleeper.
Foto und Copyright: Trainworx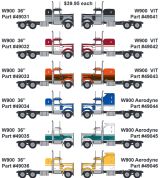 Trainworx Nr. 49033,
Kenworth W900 Orange and brown Seminole with 36 inch sleeper.
Foto und Copyright: Trainworx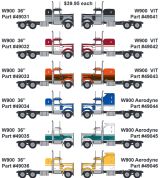 Trainworx Nr. 49032,
Kenworth W900 Red and white Seminole with 36 inch sleeper.
Foto und Copyright: Trainworx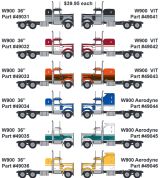 Trainworx Nr. 49031,
Kenworth W900 Black and gray Seminole with 36 inch sleeper.
Foto und Copyright: Trainworx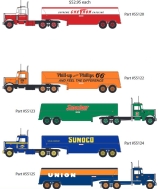 Trainworx Nr. 55125,
Peterbilt 351 with 32' tanker "Union 76".
Foto und Copyright: Trainworx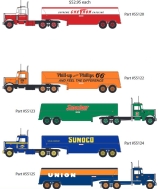 Trainworx Nr. 55124,
Peterbilt 351 with 32' tanker "Sunoco".
Foto und Copyright: Trainworx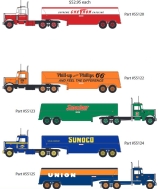 Trainworx Nr. 55123,
Peterbilt 351 with 32' tanker "Sinclair".
Foto und Copyright: Trainworx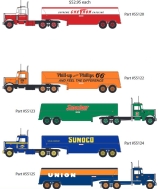 Trainworx Nr. 55122,
Peterbilt 351 with 32' tanker "Phillips 66".
Foto und Copyright: Trainworx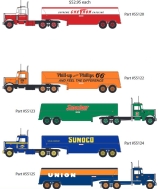 Trainworx Nr. 55121,
Peterbilt 351 with 32' tanker "Hess".
Foto und Copyright: Trainworx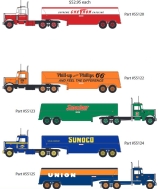 Trainworx Nr. 55120,
Peterbilt 351 with 32' tanker "Chevron".
Foto und Copyright: Trainworx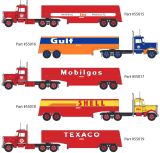 Trainworx Nr. 55019,
Peterbilt 350 with 32' tanker "Texaco".
Foto und Copyright: Trainworx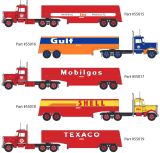 Trainworx Nr. 55018,
Peterbilt 350 with 32' tanker "Shell".
Foto und Copyright: Trainworx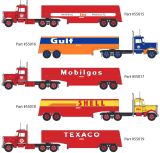 Trainworx Nr. 55017,
Peterbilt 350 with 32' tanker "Mobilgas".
Foto und Copyright: Trainworx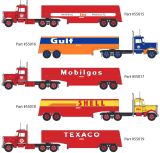 Trainworx Nr. 55016,
Peterbilt 350 with 32' tanker "Gulf".
Foto und Copyright: Trainworx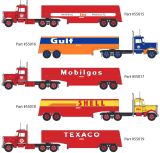 Trainworx Nr. 55015,
Peterbilt 350 with 32' tanker "Esso".
Foto und Copyright: Trainworx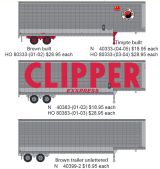 Trainworx Nr. 40399-02,
Brown Trailer unlettered.
Foto und Copyright: Trainworx


Trainworx Nr. 40383-03,
Brown Trailer, Clipper Express.
Foto und Copyright: Trainworx


Trainworx Nr. 40383-02,
Brown Trailer, Clipper Carloading.
Foto und Copyright: Trainworx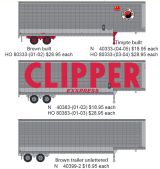 Trainworx Nr. 40383-01,
Brown Trailer, Clipper Express.
Foto und Copyright: Trainworx


Trainworx Nr. 40333-05,
Brown Trailer Timpte built, Northern Pacific Timpte built.
Foto und Copyright: Trainworx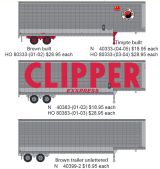 Trainworx Nr. 40333-04,
Brown Trailer Timpte built, Northern Pacific Timpte built.
Foto und Copyright: Trainworx


Trainworx Nr. 40367-03,
Drop Frame Trailers, New Jersey Central.
Foto und Copyright: Trainworx


Trainworx Nr. 40367-02,
Drop Frame Trailers, New Jersey Central.
Foto und Copyright: Trainworx

Trainworx Nr. 40367-01,
Drop Frame Trailers, New Jersey Central.
Foto und Copyright: Trainworx


Trainworx Nr. 40366-03,
Drop Frame Trailers, Tennessee Central.
Foto und Copyright: Trainworx


Trainworx Nr. 40366-02,
Drop Frame Trailers, Tennessee Central.
Foto und Copyright: Trainworx

Trainworx Nr. 40366-01,
Drop Frame Trailers, Tennessee Central.
Foto und Copyright: Trainworx


Trainworx Nr. 40353-03,
Drop Frame Trailers, Atlantic Coast Line.
Foto und Copyright: Trainworx


Trainworx Nr. 40353-02,
Drop Frame Trailers, Atlantic Coast Line.
Foto und Copyright: Trainworx

Trainworx Nr. 40353-01,
Drop Frame Trailers, Atlantic Coast Line.
Foto und Copyright: Trainworx


Trainworx Nr. 40343-09,
Drop Frame Trailers, Rock Island.
Foto und Copyright: Trainworx


Trainworx Nr. 40343-08,
Drop Frame Trailers, Rock Island.
Foto und Copyright: Trainworx

Trainworx Nr. 40343-07,
Drop Frame Trailers, Rock Island.
Foto und Copyright: Trainworx


Trainworx Nr. 40309-09,
Drop Frame Trailers, Louisville and Nashville.
Foto und Copyright: Trainworx


Trainworx Nr. 40309-08,
Drop Frame Trailers, Louisville and Nashville.
Foto und Copyright: Trainworx

Trainworx Nr. 40309-07,
Drop Frame Trailers, Louisville and Nashville.
Foto und Copyright: Trainworx


Trainworx Nr. 40306-09,
Drop Frame Trailers, Illinois Central
Foto und Copyright: Trainworx


Trainworx Nr. 40306-08,
Drop Frame Trailers, Illinois Central .
Foto und Copyright: Trainworx

Trainworx Nr. 40306-07,
Drop Frame Trailers, Illinois Central .
Foto und Copyright: Trainworx


Trainworx Nr. 40303-09,
Drop Frame Trailers, Chicago and Eastern Illinois.
Foto und Copyright: Trainworx


Trainworx Nr. 40303-08,
Drop Frame Trailers, Chicago and Eastern Illinois.
Foto und Copyright: Trainworx

Trainworx Nr. 40303-07,
Drop Frame Trailers, Chicago and Eastern Illinois.
Foto und Copyright: Trainworx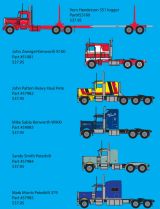 Trainworx Nr. 55180,
Vern Henderson 351 logger. This 1956 Peterbilt 351 logger was owned by Wesley LaVern (Vern) Henderson of Pendleton Oregon. It had a 220 Cummins with 3x5 transmission. It received many paint jobs in its life, this is the final Vern Henderson paint scheme.
Foto und Copyright: Trainworx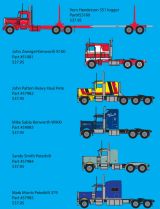 Trainworx Nr. 51081,
John Zwergel Kenworth K100. This 1973 Kenworth K100 was owned by John Zwergel. It was set up with a 350 Cummins, 4.33 rears and Dayton wheels.
Foto und Copyright: Trainworx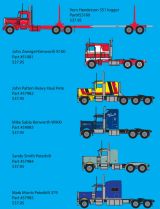 Trainworx Nr. 57982,
John Patten Heavy Haul Pete. This custom heavy haul Peterbilt was owned by John Patten.
Foto und Copyright: Trainworx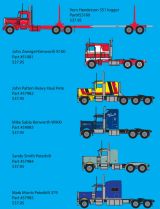 Trainworx Nr. 59083,
Mike Sabia Kenworth W900. Mike Sabia from New Jersey owned this custom KW with 3406 CAT engine. "ON MY STEEL HORSE I RIDE" is on the back of the sleeper. These are lyrics from (Bon Jovi, Wanted Dead or Alive). Wanted Dead or alive? There must be more to this story but Mike won't say.
Foto und Copyright: Trainworx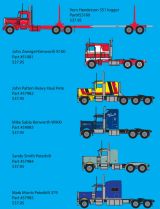 Trainworx Nr. 57984,
Sandy Smith Peterbilt. This 1997 Peterbilt was specified for light weight with the highest horsepower possible and maximum longevity. The truck was owned and operated by Camionnette, Ltd. (camionnette, is a French word for little truck) which was a small fleet of tractor trailers, owned by Sandy and Kris Smith, hauling dry bulk Portland cement and other commodities.
Foto und Copyright: Trainworx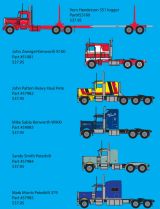 Trainworx Nr. 57985,
Mark Morris Peterbilt 379. This beautiful 2001 blue Peterbilt 379 was bought new by Mark Morris in 2000. It is powered by a CAT 6NZ C15 engine. Custom work on the truck was performed by Truck Rods, part of Peterbilt of Joplin Missouri.
Foto und Copyright: Trainworx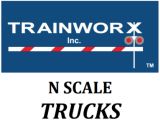 Trainworx Truck Parts Catalog,
Trainworx bietet seine Trucks nun auch in Einzelteilen an. Dazu gibt es eine Teilekatalog der alle Kleinteile beinhaltet
Trainworx Truck Parts 2016 als PDF-Datei
Trainworx Truck Parts auf der Trainworx Seite
Foto und Copyright: Trainworx


Trainworx Nr. 59027,
Kenworth W900 VIT 200 with N&W Bicentennial trailer. Limitiert auf 200 St.
Trainworx Bicentennial Special Runs
Foto und Copyright: Trainworx


Trainworx Nr. 51021,
Kenworth K100 VIT 200 with WP Bicentennial trailer Limitiert auf 200 St.
Trainworx Bicentennial Special Runs
Foto und Copyright: Trainworx

Trainworx Nr. 45386-03,
53' Trailer, Tripple Crown Services
Foto und Copyright: Trainworx

Trainworx Nr. 45386-02,
53' Trailer, Tripple Crown Services
Foto und Copyright: Trainworx

Trainworx Nr. 45386-01,
53' Trailer, Tripple Crown Services
Foto und Copyright: Trainworx

Trainworx Nr. 45385-03,
53' Trailer, Yellow Freight
Foto und Copyright: Trainworx

Trainworx Nr. 45385-02,
53' Trailer, Yellow Freight
Foto und Copyright: Trainworx

Trainworx Nr. 45385-01,
53' Trailer, Yellow Freight
Foto und Copyright: Trainworx

Trainworx Nr. 45384-03,
53' Trailer, Roadway Express
Foto und Copyright: Trainworx

Trainworx Nr. 45384-02,
53' Trailer, Roadway Express
Foto und Copyright: Trainworx

Trainworx Nr. 45384-01,
53' Trailer, Roadway Express
Foto und Copyright: Trainworx

Trainworx Nr. 45383-03,
53' Trailer, Clipper
Foto und Copyright: Trainworx

Trainworx Nr. 45383-02,
53' Trailer, Clipper
Foto und Copyright: Trainworx

Trainworx Nr. 45383-01,
53' Trailer, Clipper
Foto und Copyright: Trainworx

Trainworx Nr. 45382-03,
53' Trailer, Alliance Shippers
Foto und Copyright: Trainworx

Trainworx Nr. 45382-02,
53' Trailer, Alliance Shippers
Foto und Copyright: Trainworx

Trainworx Nr. 45382-01,
53' Trailer, Alliance Shippers
Foto und Copyright: Trainworx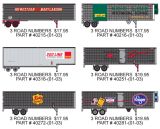 Trainworx Nr. 40281-03,
40' Trailer, Kroger corrugated reefer
Foto und Copyright: Trainworx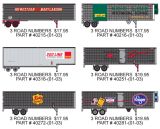 Trainworx Nr. 40281-02,
40' Trailer, Kroger corrugated reefer
Foto und Copyright: Trainworx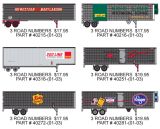 Trainworx Nr. 40281-01,
40' Trailer, Kroger corrugated reefer
Foto und Copyright: Trainworx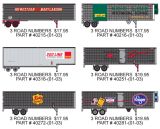 Trainworx Nr. 40272-03,
40' Trailer, MKT corrugated
Foto und Copyright: Trainworx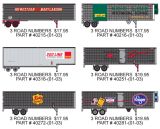 Trainworx Nr. 40272-02,
40' Trailer, MKT corrugated
Foto und Copyright: Trainworx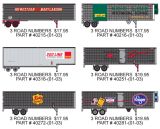 Trainworx Nr. 40272-01,
40' Trailer, MKT corrugated
Foto und Copyright: Trainworx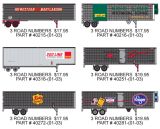 Trainworx Nr. 40251-03,
40' Trailer, Seaboard Razorback
Foto und Copyright: Trainworx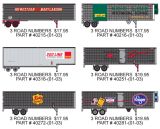 Trainworx Nr. 40251-02,
40' Trailer, Seaboard Razorback
Foto und Copyright: Trainworx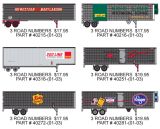 Trainworx Nr. 40251-01,
40' Trailer, Seaboard Razorback
Foto und Copyright: Trainworx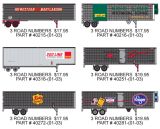 Trainworx Nr. 40316-03,
40' Trailer, SOO Line drop frame
Foto und Copyright: Trainworx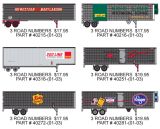 Trainworx Nr. 40316-02,
40' Trailer, SOO Line drop frame
Foto und Copyright: Trainworx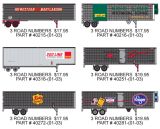 Trainworx Nr. 40316-01,
40' Trailer, SOO Line drop frame
Foto und Copyright: Trainworx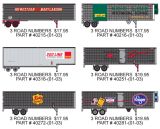 Trainworx Nr. 40216-03,
40' Trailer, SOO Line corrugated reefer
Foto und Copyright: Trainworx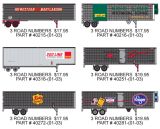 Trainworx Nr. 40216-02,
40' Trailer, SOO Line corrugated reefer
Foto und Copyright: Trainworx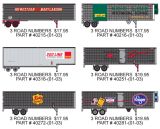 Trainworx Nr. 40216-01,
40' Trailer, SOO Line corrugated reefer
Foto und Copyright: Trainworx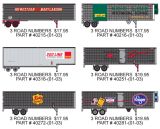 Trainworx Nr. 40215-03,
40' Trailer, Western Maryland corrugated
Foto und Copyright: Trainworx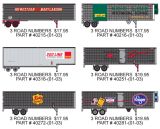 Trainworx Nr. 40215-02,
40' Trailer, Western Maryland corrugated
Foto und Copyright: Trainworx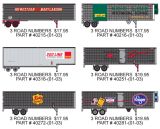 Trainworx Nr. 40215-01,
40' Trailer, Western Maryland corrugated
Foto und Copyright: Trainworx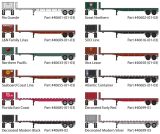 Trainworx Nr. 40699-03,
40' Flat bed trailer, Decorated Modern Silver
Foto und Copyright: Trainworx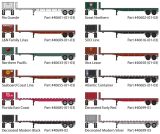 Trainworx Nr. 40699-02,
40' Flat bed trailer, Decorated Modern Black
Foto und Copyright: Trainworx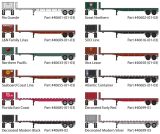 Trainworx Nr. 40699-01, 40' Flat bed trailer, Decorated Early Red
Foto und Copyright: Trainworx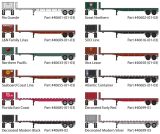 Trainworx Nr. 40685-03, 40' Flat bed trailer, Florida East Coast
Foto und Copyright: Trainworx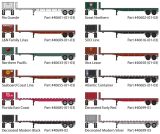 Trainworx Nr. 40685-02, 40' Flat bed trailer, Florida East Coast
Foto und Copyright: Trainworx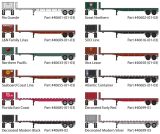 Trainworx Nr. 40685-01, 40' Flat bed trailer, Florida East Coast
Foto und Copyright: Trainworx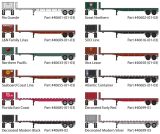 Trainworx Nr. 40665-03, 40' Flat bed trailer, Atlantic Container
Foto und Copyright: Trainworx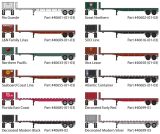 Trainworx Nr. 40665-02, 40' Flat bed trailer, Atlantic Container
Foto und Copyright: Trainworx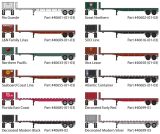 Trainworx Nr. 40665-01, 40' Flat bed trailer, Atlantic Container
Foto und Copyright: Trainworx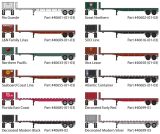 Trainworx Nr. 40655-03, 40' Flat bed trailer, Seaboard Coast Line
Foto und Copyright: Trainworx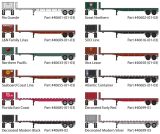 Trainworx Nr. 40655-02, 40' Flat bed trailer, Seaboard Coast Line
Foto und Copyright: Trainworx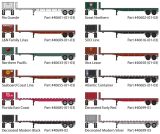 Trainworx Nr. 40655-01, 40' Flat bed trailer, Seaboard Coast Line
Foto und Copyright: Trainworx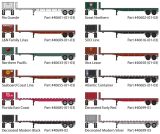 Trainworx Nr. 40650-03, 40' Flat bed trailer, Xtra Lease
Foto und Copyright: Trainworx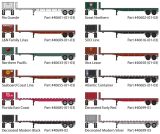 Trainworx Nr. 40650-02, 40' Flat bed trailer, Xtra Lease
Foto und Copyright: Trainworx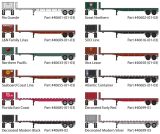 Trainworx Nr. 40650-01, 40' Flat bed trailer, Xtra Lease
Foto und Copyright: Trainworx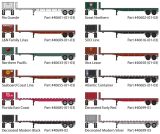 Trainworx Nr. 40650-01, 40' Flat bed trailer, Xtra Lease
Foto und Copyright: Trainworx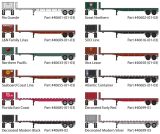 Trainworx Nr. 40633-03, 40' Flat bed trailer, Northern Pacific
Foto und Copyright: Trainworx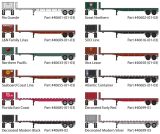 Trainworx Nr. 40633-02, 40' Flat bed trailer, Northern Pacific
Foto und Copyright: Trainworx